Bhai dooj as you all know is a festival that is celebrated in the last day of the five day long Diwali festival. You can say it is another version of rakhi festival. The relationship of a brother and sister is signified here and gifts for bhai dooj are bought by sisters with love and respect. But before arriving on any kind of special gifts for your brother, know a bit about the legends of bhai dooj.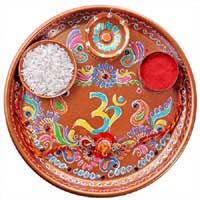 Lord Vishnu: Bali Maharaj pleased Lord Vamadeva who asked Bali to ask for any wish. Bali wanted Lord Vishnu to be on every door at Patalaloka. Lord Vishnu became the ombudsman of Bali. This news was carried to Goddess Lakshmi by Narad and she went hyper and she decided to play a trick to bring her husband back. She reached at Bali's place as a beggar seeking help and said that as she doesn't have a brother she would like to have one. Bali accepted her as a sister and said that he would give her anything and this is when she asked for her husband back.
Lord Mahavir: Legends say that when Mahavir was attaining Nirvana, his brother Nandivardhan was anxious and distressed because he was missing him. Sudarshana, his sister then comforted him and since then sisters have been valued in bhai dooj.
Lord Krishna: It's said that after killing the demon Narakasura when Lord Krishna went to meet his sister Subhadra, she welcomed him by applying a tika on his forehead and served him sweets, flowers, and lamps. Since that time bahi dooj is celebrated.
These are a few bhai dooj gifts online that you can send to your brother.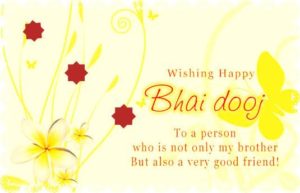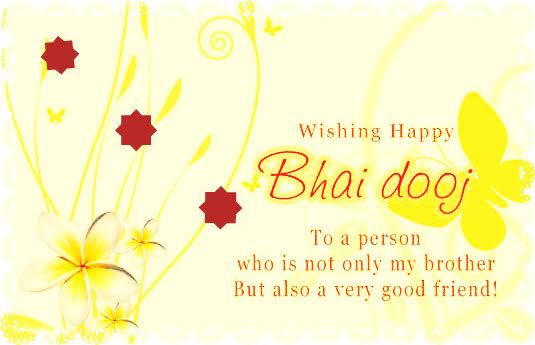 Sweet Platter: Mesmerizing kaju rolls, Kaju Barfi, Kaju Katli, Roshogolla, Laddoos, etc. would be easily available for your brother. Who doesn't love to gorge on these sweets? It would be absolutely delightful for your brother to receive a platter containing all his favorite sweets.
Chocolates: World renowned Ferrero Rocher, Lindt, or Cadbury can be bought for him as a gift for bahi dooj and make him happy. There must be many memories of chocolate sharing with your brother and he would also remember those sweet childhood days.
Personalized Coffee mug: Get a coffee mug printed for him exclusively. Include his name, date of birth, sun sign, and his characteristic feature on that mug to make it interesting. Or you can just include a handsome picture of him along with his signature to mesmerize him on this special moment.
Brothers and sisters are the best friends of each other. So, illuminate every moment of the festival with him.