Many eco-friendly and responsible initiatives in India
With an exponential economic growth, tourism booming, the increase in the number of international arrivals and diversification of destinations, India has recognized the opportunities offered by the tourism sector. Since the release of the economy in 1991, tourism has become the first economic sector in the country creating many jobs. Although this development is manifested by the opening of many luxury hotels, a more responsible form of tourism is emerging gradually, mindful for its environmental impact and its population.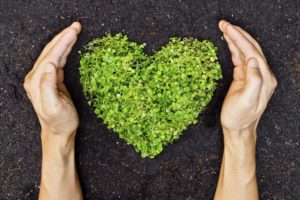 Conservation programs
India has a great floral and faunal diversity from mangroves to coral reefs, forests to deserts, bringing together 76,000 animal species and 45,000 plant species. Various conservation programs have been set up as "Tiger Project" or "Project Elephant." It was in 1980 that the government decided to develop its tourism activity according to novel principles in India "Justice, equity and environment." The objectives are to sustain the benefits of tourism and improve the living conditions of residents through direct local economic benefits. To do this, various ways have been implemented; enhancement of arts and traditions in particular through positive interactions between travelers and local people, preservation of the environment and vocational training.
Committed operators
An example of committed operators is "The Blue Yonder" responsible travel designer in Kerala created in 2004 for environmental purposes to save his longest river "Nila", almost dry. Within a few years, this pioneer has become a reference in the field. He also received the award for responsible tourism at the World Travel Market 2006 in London and is now developing its circuits in Rajasthan and Ladakh. This organization was notably behind the launch of the second International Conference on Responsible Tourism in Cochin (Kerala) in March 2008. The organization of this event has really proved the interest of India for this new form tourism.
The Kudumbashree association also works in this direction. This is an eradication of poverty project undertaken by the Government of Kerala in 1998. Responsible Tourism section was opened in 2008 with the aim of establishing a partnership between the local tourism businesses and the poorest in Kerala. Agricultural production is sold to the hotels participating in the project, ensuring a source of income for families.
National Parks
Also, the country has National Parks with considerable natural wealth. The most famous being Ranthambhore and its tigers. These can be discovered through eco-tourism and it is possible for example to stay in a lodge in the heart of wildlife. (See Map of reserves in India above, double-click on the map to enlarge).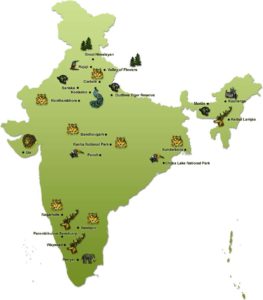 New ways of travel
New forms of travel emerge in the territory as well. Indeed, several kind of responsible tourism have to be noted as living in homestay (guest houses) in Indian villages, where contact with the local is favored, in a respectful environment for residents and the environment.
These types of accommodation are available for example near Jaisalmer in Pabu ki Dhani farm. They support the NGO Malenbai and help communities of the desert.
Sustainable Tourism
Sustainable tourism is also possible with NGOs like Namlang-Himal, with a guesthouse in Bir in Himachal Pradesh in the North West.
Himalayan eco-tourism offers guests Himalayan tours with local guides. The costs are certainly a little higher than elsewhere, but the guides are paid fair prices.
A cafe in Agra "Sheroes Café" is also engaged in social tourism with the recruitment of women burned with acid. This coffee gives them a chance to open up to society, to not be afraid to be seen and to feel alive and useful.
You can also visit Old Delhi with children of Salaam Baalak Trust, to name a few!