In November, the state of Uttar Pradesh has inaugurated the first highway dedicated for bicycles only! It is the longest in Asia, with a total of 207km! It connects Agra and its famous Taj Mahal with Etawah.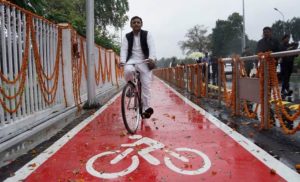 On you way, you can admire Raja Bhoj ki Haveli, Bateshwarnath Temple, Mela Kothi Jarar and Naugava ka Quila, Naugawa fort and rural areas with 92 villages.
At the end, a Lion safari is waiting for you! People are there in caged paths while the lions and other animals are seen moving freely in the jungle.
For those who will try the experience, you should know that villagers have unfortunately started to use the road for their tractors and cattle. It might be more adventurous than the safari itself to ride this highway!