Here we are: India, the crowd of its inhabitants, its multitude of smells and its colorful diversity, not to mention the incessant noise. Zoom in Rajasthan (literally "land of kings"), focus on a "small" city of only 3 million, Jaipur *.
This town is fairly recent, since the majority of its important monuments were built under the dynasty of Mahara Sawai Jai Sing II, from the year 1727. In just four years, the people of Jaipur could see iconic monuments of India such as the Hawa Mahal (Palace of Winds) and the Chandra Mahal (City Palace) lifted up.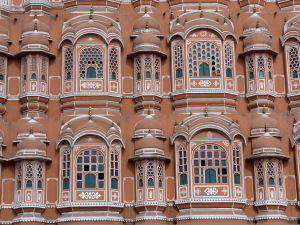 It is also named the "pink city", because of the color of its facades. Originally gray and white, they were specifically painted in 1876 in anticipation of the arrival of Prince Albert.
So much for the historical part, back (if you please) on our topic … Or should I say … Our bikes!
Indeed, in this majestic day of September, I start, stowed by my companion, a major adventure. Browse Jaipur by bike.
Under the protection of (muscular) Raju, our small group navigates the streets of the pink city. In all modesty, we have indeed opted for the turn "Pink Royal", which takes us on the trail of Maharaja.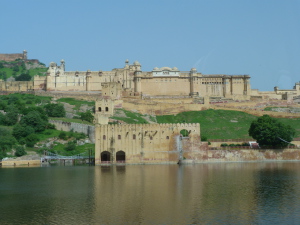 We find senior and former cenotaphs ** the Ramganj Chaupar (a beautiful and very luxurious), cross a large vegetable market and admire the magnificent Water Palace. Among other things, each more charming than each other.
Balance sheet? no fall (no, stopped it does not count!) and the desire to do it again!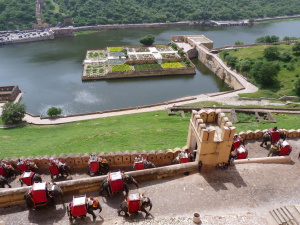 Continue the morning adventure by subscribing to one of two packages: "pink elephant" or "pink foodies". More information on http://www.cyclinjaipur.com/
* In Indian "Jai" means victory and "pur" city
** Monument erected in memory of a person but not containing body