Meghalaya and the Northeastern States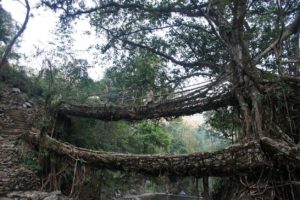 Rajasthan or Kerala have no more secrets for you? Goa too touristy? It's time to discover the north-east of India!
Northeast India is composed of seven "sister" states: Arunachal Pradesh, Assam, Manipur, Meghalaya, Mizoram, Nagaland, and Tripura and is surrounded by Bangladesh, Bhutan, Burma and China. Still little tourist, the region is full of treasures! A special permit is required for the region of Arunachal Pradesh.
Meghalaya, which means "adobe of clouds", is one of the rainiest regions in the world. The area of ​​Cherrapunji is known to be the wettest!
Trekking lovers, Meghalaya is for you. The landscapes are magnificent and the steps that connect the villages … difficult!
Phone does not work well and internet difficult to find! Perfect for disconnecting!
This slideshow requires JavaScript.
Where to stay?
Tourism begins in the region. So you will not find many hotels, but homestays.
If you do not want to take the risk of sleeping outside, we recommend:
www.chalohoppo.com, an agency specializing in the North-East created by a group of friends who test everything before.
Embor Klamet, emborklamet@gmail.com / 8575692334, a young local guide who knows everyone! It can also recommend itineraries. By mail or whatsapp, he is always available.
Here are some homestay addresses:
Cherrapunji
Heritage Lodge – Batista 85 75 97 69 91/9615293606
Delicious meals and profits go to the orphanage and school sheltered in the same house. A beautiful family !
Address: sacred grove, Nongrim. Not easy to find, better to call once in the village.
Nongriat
Charlie's place. 8575787340
Mowlynnong
The mother of Embor has a very nice bungalow.
All possible accommodations are referenced in the loacal restaurants:
Bangladesh View – 9615386060
Iarton Guesthouse – 8256966935
Halai Grep Guest house – 9856161773
Ilajong Guest house – 9615043027
Umpohliew homestay – 8014275582
Hala Tyngkong homestay – 9615973768
Hala Rimpey homestay – 8014489506
Harud Wahduid homestay – 85754404446
Lumpyngngad homestay – 8014891699
Sah Pyngngad homestay – 9615724352
Skyview guest house – 8575792347
Arika Guest house – 9615959983
Stream side guest house – 9856286146
Nansken homestay – 8014950233