Today Gandhi Jayanati is celebrated all across the country for 146th Gandhi's anniversary.
Mohandas Karamchand Gandhi was born in 1869 in the current State of Gujarat. The honorific Mahatma, "high-souled" in Sanskri, applied to him in 1914 in South Africa. He is one the first leaders and theoricians of nonviolent civil disobedience. His involvement on the Indian political stage widely inspired the Indian independence movement.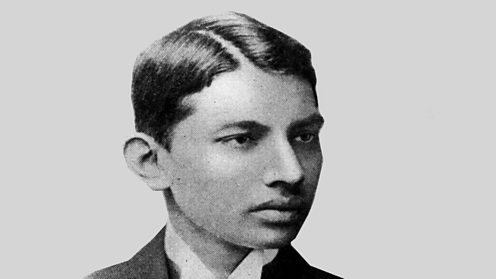 Gandhi was born in a rich, influent and devout merchant family. Young, he decided to leave India to study In Law School in London. During his stay in London, he participated to associations (vegetarianism) where he learnt more about institution's organization.
His life was hard when he came back to his natal country. The pursuit of his job confronted to some burdens. Gandhi argued with an English official. He denounced his "racial arrogance" and his " greed for power". He had stayed in India only for 2 years because he decided to leave his country in 1893 to South Africa where he was the lawyer of an Indian company. His confrontation to a segregationist society was a revelation for him and for his thought. He stayed there until 1915.
After that began the fight for the Indian independence. Gandhi avoided most conflicts of the 1920's and remained intermediary between Swaraj Party and the National Congress. His call of 1919 for Satyagraha to protest against the Rowlatt Act triggered so much violence towards Briton families. Repression was terrible in Amritsar. Thousand of Indians died because they refused to apply the prohibition of the gathering of more than five people. Gandhi denounced strongly the violence of the two sides.
Gandhi launched his first nonviolent civil disobedience movement in March 1930. The famous Salt March lasted more than 20 days and covered more than 400 km. At the end, Gandhi managed to sign the Gandhi-Irving Pact (liberation of 60 000 Indian prisoners against the end of the movement the peaceful movement).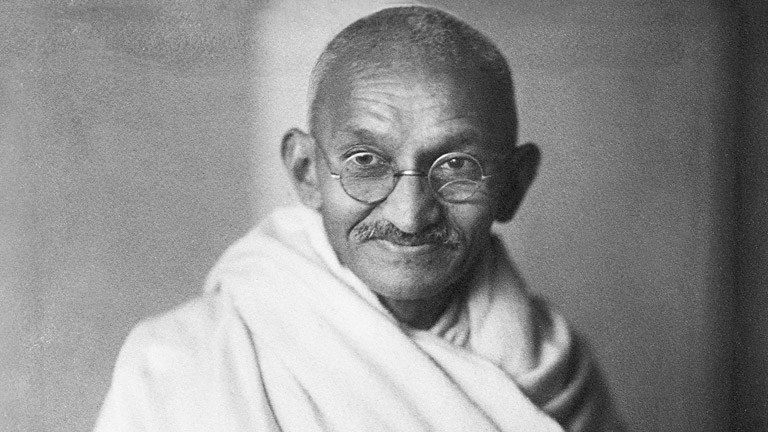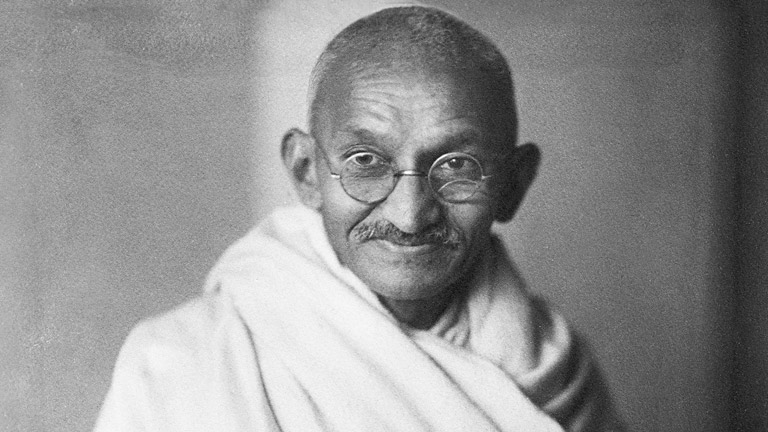 Until 1945, Gandhi struggle for the independence. In 1939, when the WWII broke out, he launched a "moral and nonviolent support" to English war effort. According to him, India could participate to a war for democratic freedom whereas India is deprived of that basic liberty. While the war strengthened, he claimed more and more the independence of India and launched the movement Quit India. The purpose was to drive away Britons from the territory. After two years of detention and awful losses (his wife and his advisor died in jail, thousand of Indians slaughtered), the movement reached its objectives.
He played an essential role during the transition between 1945 and 1947. His fight finally lead him to negotiate with the Muslim Party, lead by Muhammad Ali Jinnah. This league was very popular in states such as Punjab, East Bengal and Sind. Gandhi was strongly against the split of the country in two independent countries. He was in favour of an Indian Union, whatever the religion. However, the Congress voted for the split in order to avoid a civil war between Hindus and Muslims. In 1948, Nathuram Godse murdered Gandhi in New Delhi. This Hindu nationalist held him responsible for the division and the weakening.
Today, Gandhi is the "Father of the Nation". Indians call him usually "Papa". His birthday became a national day. In 2007, the General Assembly of the United Nations called this day "the international day of nonviolence". To our great surprise, Indians discretely celebrated this day in family. Few schools organized gathering to honour the memory of the 20th century's spiritual father of India.
We all know at least one or two quotes of Gandhi's speeches. Those ones still remain in a lot of political speeches. From politics to humble citizens, Gandhi principles continue to guide his heir's actions. In india, Gandhi's legacy is both evrywhere and nowhere. He remains a reference for Indian people but India evolution toward liberal capitalism seems to ignore Gandhi's words. Nowadays, a few philosphers have called Gandhi's opinions about casts and India split into question. As a paradox, Gandhi is represented on every INR banknote while he was against hoarding. In New Delhi, the "birla house" is preserved in memory of Gandhi's last days. Although India is full of Gandhi's museums.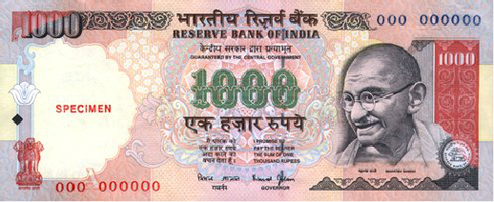 Bibliography about Gandhi:
-An Autobiography-The Story Of My Experiments With Truth, by M. K. Gandhi
-Hind Swaraj or Indian Home Rule, by M. K. Gandhi
-An Atheist with Gandhi, by Gora
-Brief Outline Of Gandhi's Philosophy, by Stephen Murphy
-India And The Struggle Against Apartheid, by E. S. Reddy
Filmography about gandhi:
-Gandhi (1982) Richard Attenborough
– documentary https://www.google.co.in/url?sa=t&rct=j&q=&esrc=s&source=web&cd=1&cad=rja&uact=8&sqi=2&ved=0CBwQtwIwAGoVChMIjojCtIifyAIVDAqOCh1TuwRw&url=http%3A%2F%2Fwww.youtube.com%2Fwatch%3Fv%3DibagACLb-6s&usg=AFQjCNFFR19sOKoZp_GrwBtfizvvM93a5g&sig2=VwR70CtSYTA-Y24_gHkOww
Niels&Adrien