The capital city of India famous for its monuments, its colourful markets and its diversity, is also well-known for a reason more worrying. Indeed, New Delhi is facing one of the worst pollution levels of the world and the environmental issues are endless. The simple fact to watch the stars in the sky by night is almost impossible because of the polluted clouds. This could become worse if we don't start to act.
Since the beginning, Bed & Chai Guesthouse is involved in developing more eco-friendly and respectful for human's rights.
Coraline and the staff are trying since a while, to make it concrete.
Here's the different actions we have currently set up in our cosy home:
We are doing our own compost
The other garbage are separated in different bins for plastic & glass
 Water consummation is managed  in order to save by wasting less in a funny way with our new shower timer in bathrooms!
Dishes provided in the guesthouse for breakfasts and dinners include organic products. We do give a real importance about healthy food then we try to improve the quality of what we cooked for our guests.
An interview has been made about the work of our garbage wala. On our website, you can discover how important he is in the waste management of New Delhi.
Our quality manager, Sarah Bouchaud, decided to organize an event to warn people about the environment protection, especially towards the Delhiites. This workshop « Let 's be ecofriendly in Delhi! » will take place on the Saturday 16th of July from 5 to 9 PM on our nice rooftop at Bed & Chai Guesthouse.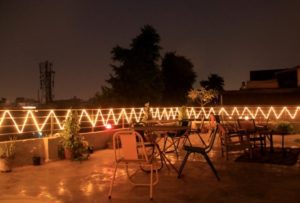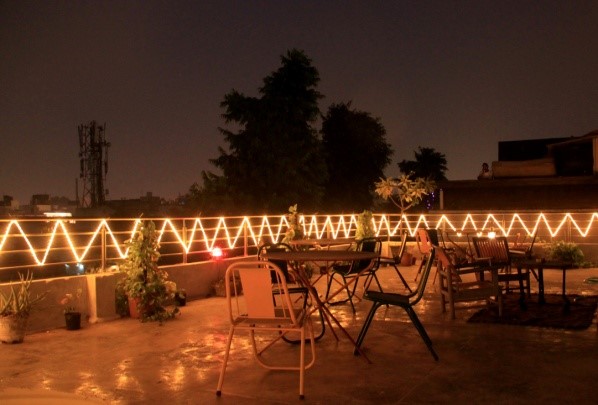 You want to discover how to be eco-friendly by your own in Delhi?
Let's discover the great event we are organizing in July on our rooftop!
Join us to the workshop we co-organize with our lovely partners and share a good moment together, meet new people and discover different actions to save our environment!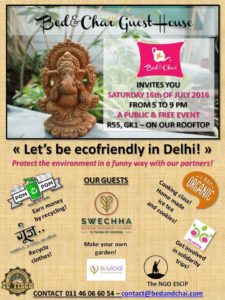 Here's the program of the evening :
(!) A collection of old clothes for people who need it in villages will be organized.
Feel free to bring any clothes that you no longer use (!)
Homemade cookies and fresh lemon ice tea by Chef Moses will be available.
A special big thank to ZuTisch Bistro for their fans!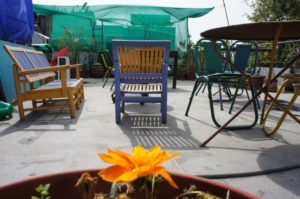 Let's have fun, join us to better understand how to make sustainable development concrete!
The entrance of this event is free and public so everyone is more than welcomed in our guesthouse!
If you want to participate, you just have to click here and don't hesitate to share the link to your friends who might be interested to understand how easy and important it is to make OUR part for the environment!