Yesterday, Indians began to celebrate the famous festival Navaratri. This Hindu festival goes on during 9 nights and 10 days. It celebrates the female pantheon and ends on 22th of October.
The word Navaratri comes from two Sanskrit words: "nava" and "ratri" which mean respectively "nine" and "nights". During those 9 nights, Durga, the Mother Goddess, is worshipped in her different incarnations (9). The festival begins during the āshwin month (September et October in the Gregorian calendar). Festivities are very different in each part of the country. For instance, in Gujarat, the main tradition is a huge traditional dance, called Garbâ. Indian women are dancing with miniature temples on their head. In West-Bengali, and mainly in Calcutta, they are especially celebrating the last four days of the festival (Durga Puja). They build idols of Durga, representing her killing the demon Mahishasura. After the four last days, devotees immerge the idols into the river.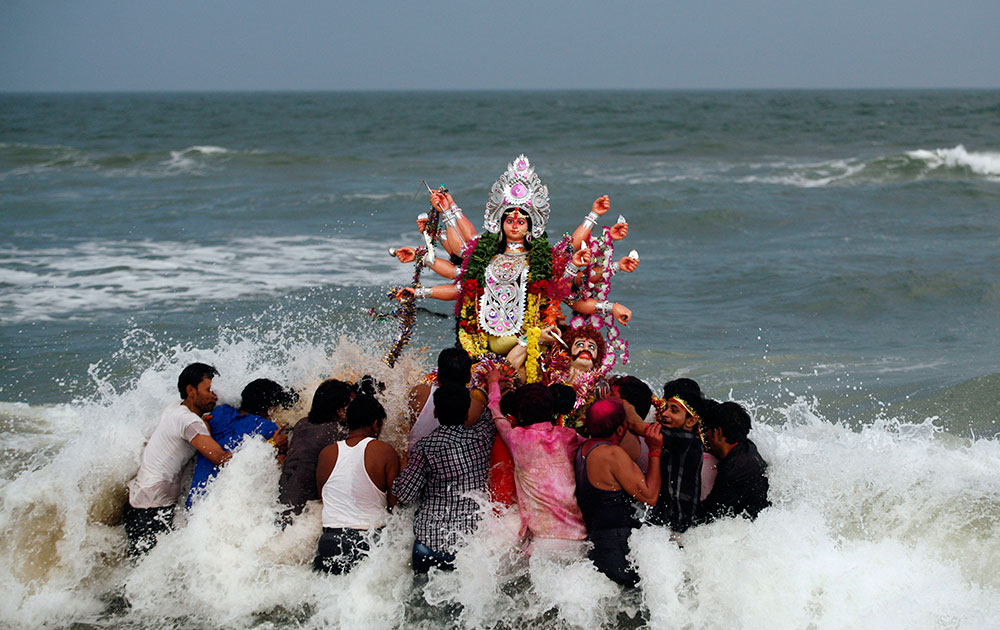 Each day of Navaratri, Indians celebrate a different goddess. A specific colour and a specific element are associated to them:
1st and 2nd days – Shailaputri, colour: red and blue royal, element: ghee (butter melted)
3rd day – Brahmacharini, colour: yellow, element: sugar
4th day – Chandraghanta, colour: green, element: milk
5th day – Kushmanda, colour: grey, element: malpua (pancake)
6th day – Skandamata, colour: orange, element: banana
7th day- Katyayani, colour: white, element: honey
8th day- Kaalratri, colour: pink, element: jagery dishes
9th day- Mahagauri, colour: blue sky, element: coconut
10th day- Siddhidaatri, colour: purple, element: grains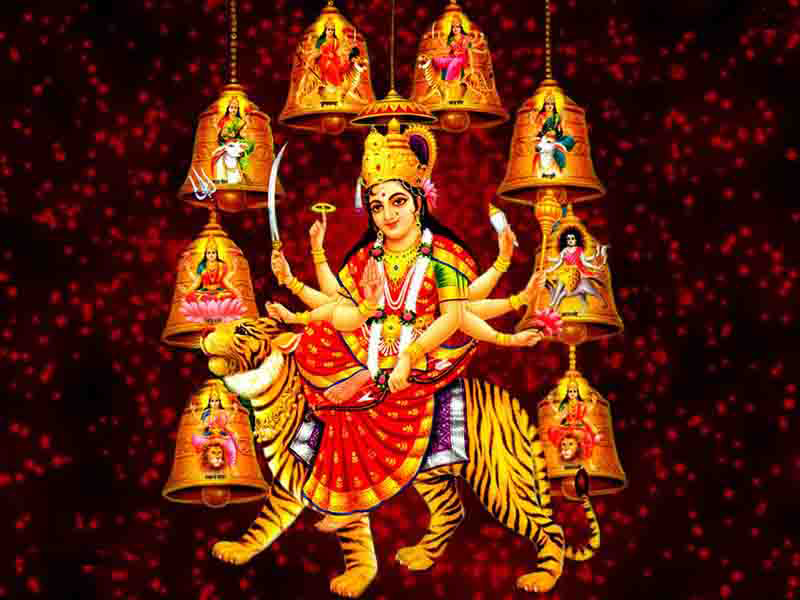 Legend says that when Mahishasura, the spiteful demon, who was a devotee of Lord Shiva, acquired unbeatable powers of eternity, he started taking away innocent lives. In order to stop him from taking over all the three lokas, Lord Brahma, Lord Vishnu and Lord Mahesh of the Hindu Trinity united their supreme powers and created a warrior goddess Durga who entered a war with Mahishasura. This war extended for nine days and on the tenth day she beheaded him. These nine nights signify the festival of Navratri.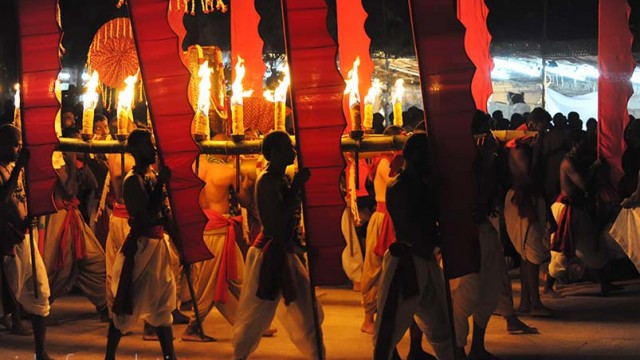 In Hindu calendar, Indians celebrate four times Navaratri in the year:
Magh Navratri, also known as Gupt Navratri (January – February, observed only in certain regions of North India)
Vasant Navratri or Ram Navratri, also known as Chaitra Navratri (March – April)
Ashad Navratri, also known as Gupt Navratri (June – July, observed only in certain regions of North India)
Shardiya Navratri, also known as Maha Navratri (September – October)
If you're carnivore, you might know that eating meat during the festival is forbidden for Hindus. Some Sikhs and Muslims who respect Hindus' traditions follow the same behaviour. Thus, it could be hard to find some non-veg meals on menus during the festival.