Delhi Street Art Festival is back!
Delhi Street Art Festival is back this year with even more artists and locations. The WIP show is on for one month and worths a look!
WIP – The Street Art Show – is hosted at the largest dry port in Asia- ICD (Inland Container Depot) – Tughlakabad, Okhla.
With the support of Asian Paints, ICD Concor Container has been transformed in a real street art gallery.  In their mission to work towards Urban Renewal they have launched a massive exhibition. This is India's largest container shed. About 100+containers (31,200 sq ft.) have been transformed into piece of art by 25 Indian and International artists over a month of February 2016.
St+art India foundation is a non-profit Organization that works with street artists from India and around the world on art projects in public spaces. Asian Paints is supporting St+art foundation and the artists consecutively with the resources they require to pull off such a massive show including funds, administrative support paints most importantly and any other elements. The objective is to turn stereotype and dull walls to vibrant, meaningful rich artworks and transform the cityscape of Delhi.
The show also retains its roots of street art by having a space that is constantly transforming – unlike the usual static experience of an art gallery or museum. Through WIP, St+art India Foundation aims to create an art-hub in an unexpected space to offer diverse sectors of society newer experiences, especially to people who are usually excluded from the reach of art.
Concerts and dance shows are also performed on Thursdays and Sundays.
Once the exhibition has closed the 100 containers shall remain painted and travel in India for their initial purpose for transporting goods.
When: From 2nd to 28th of february 2016, from Thursday to Sunday, 12pm to 6pm
Where: Inland Container Depot (ICD) Tughlakabad, Okhla Phase – 1, New Delhi – 110020
Lodhi Colony has 22 new murals to discover
From December 2015 to January 2016, Lodhi Colony gets 22 astounding murals, bringing life and richness of art to the city. Discover the new murals while visiting Meherchand or Lodhi markets!
Last but not least: Govind Puri Metro Station facelifts!
The metro station of Goving Puri has also been repainted and it is gorgeous!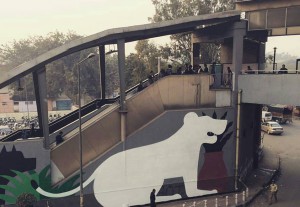 More details: